When you are ready to submit an invoice for payment, login to the Coupa Supplier Portal
https://supplier.coupahost.com/.
Select orders from the Navigation Bar
Orders Page
1. Locate the PO you are invoicing
2. Click the "Gold Coins" icon. To create a credit note select the "Red Coins"
3. Enter invoice number exactly as per your TAX invoice (PDF Attachment)
Please note: This is the invoice number generated by your accounting system. Do not list multiple invoice numbers in this field or any additional letters or numbers.
4. Invoice date (amend if required) select the date from the calendar.
5. Attach your PDF invoice. Click on Choose File or add file. Attach PDF copy of tax invoice.
6. Check GST values per line then validate or amend the quantity and price of the item/service per Invoice line.
Example: You have an order for a quantity of 1 x $1000 Exc GST however the agreed cost was $1500 Exc GST. Change the price from $1000 to $1500 Exc GST. Click on the calculate button before submitting the invoice, the Inc GST amount at the bottom of the E-Invoice must be the same as your attached PDF invoice.
7. Delete any PO lines for items/services that you are not delivering/charging for on this invoice by clicking the red X sign (x)
8. Select the correct tax description (AU GST- Non Capital Purchases will be the default type) DO NOT CHANGE tax figures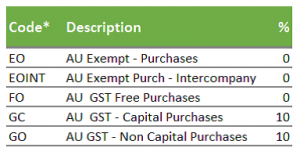 9. Click "Calculate" and ensure the values being invoiced are the same as the value on your attached PDF tax invoice.
10. Click "Submit"
Coupa will ask you to confirm you are ready to submit the invoice. Once you have clicked the send invoice button you will be directed to the invoices screen.
Additional Notes
Creating Multiple Invoices for a Single Purchase Order
If a single PO relates to multiple invoices
from your accounting system, you must
delete the irrelevant PO lines for each
Coupa invoice created.
In this example we use the one PO to
create two invoices.
Example
Invoice 1234
PO 1001
Line 1 – Verify Qty and
Price
Line 2 Delete (as not
charging)
Line 3 Verify Qty and
Price
Line 4 Delete (as not
charging)
Example

Invoice 1235
Go back into PO 1001
and select create invoice
Line 1 – Delete
Line 2 Verify Qty and
Price
Line 3 Delete
Line 4 Verify Qty and
Price
Creating an Invoice for Multiple Purchase Orders
If your supplier tax invoice contains items or services associated with multiple Cleanaway Purchase Orders, you (the supplier) cannot submit this invoice through the CSP. If this is a common occurrence there is a CSV invoicing option that can be explored. Request more information by emailing Coupahelp@cleanaway.com.au. If this is a 'one off' for a supplier, the invoice can be emailed to invoices@cleanaway.coupahost.com and Cleanaway Accounts Payable will process the invoice manually as a one off event.
Disputes
If there is a misalignment between the supplier generated tax invoice and the E-Invoice submitted in Coupa, Cleanaway will dispute the Coupa invoice for you to resubmit.
Please note – invoices created via the Coupa Supplier Portal can only be corrected by the supplier. Cleanaway cannot modify the data entered into Coupa by the Supplier.
Disputes are communicated by notification to you providing a reason for the dispute. A comment from Cleanaway will be shown regarding the action to be taken (bottom of EInvoice).
As a supplier you are required to correct the discrepancy and resubmit. In your 'Invoices List', a disputed invoice will have a 'disputed' status with an edit button to the far right (pencil image)
When you click on the edit button you will be taken into the same invoice screen you originally used to submit the invoice, there you can correct the error and resubmit. Please ensure you follow all of the above steps for a correct invoice re-submission.
Add Freight to an Invoice
If the purchase order does not include a freight line
Option 1: Please add the freight value to the unit rate of an existing line then add a note to Supplier notes field under image scan advising additional charge.
Option 2: Contact the purchase order requester to add a line to the purchase order for freight.
For additional support please email coupahelp@cleanaway.com.au